Pokémon UNITE's Anniversary Update Brings a New Map, Fresh Pokémon, and More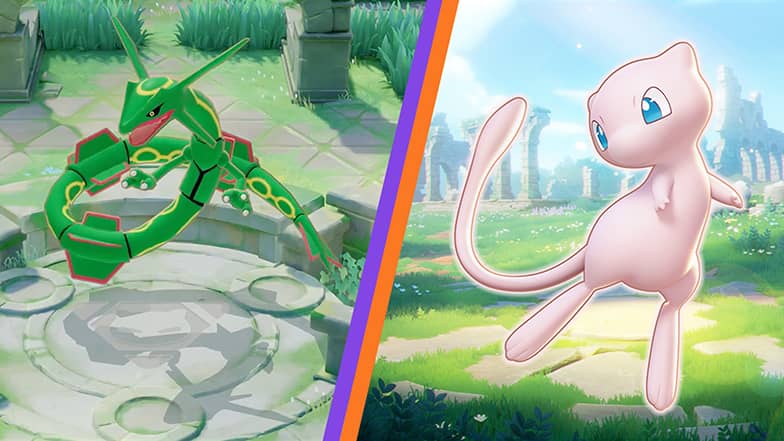 September 22, 2022, marks the first anniversary of the release of the mobile device version of Pokémon UNITE, and there are events, Holowear, newly added Pokémon, and even a new map to look forward to in an accompanying update. Learn more about everything coming to Pokémon UNITE this September!
Battle Pass 10
Pokémon UNITE's Season 10 battle pass is now available. Through October 12, 2022, the Season 10 battle pass will offer exciting new rewards, stylish Trainer fashion items, and new Holowear, such as Elegant Style: Mew and Wanderer Style: Azumarill. Each Pokémon UNITE battle pass consists of 60 battle pass levels, with thrilling missions and corresponding rewards available at each level. Complete daily, weekly, and seasonal battle pass missions to obtain battle pass points to increase your battle pass level and unlock new rewards. Players can also exchange Aeos gems for a premium pass, which automatically increases the battle pass level by 10 and provides additional rewards, such as rare Holowear, each time the battle pass level increases thereafter. Players with a premium pass can also obtain battle pass special tickets, which can be exchanged for Holowear, fashion items, and other rewards from the Season 1 and Season 2 battle passes. This is a great opportunity to get Captain Style: Cinderace, Space Style: Gengar, and more!
Mew's Mural Challenge and Two Newly Added Pokémon
In addition, Pokémon UNITE players can look forward to the Mythical Pokémon Mew! For a limited time starting September 2, 2022, by participating in the special in-game event Mew's Mural Challenge, you can obtain Mew's Unite license without spending Aeos coins or Aeos gems. Earn points by logging in, participating in and winning battles, and doing other in-game activities to collect all six mural fragments and unlock Mew's Unite license. This special event ends October 12, 2022, at which point Mew's Unite license will be available in the Unite Battle Committee shop for 15,000 Aeos coins. Players will not be able to obtain Mew's Unite license at the Unite Battle Committee shop during the event, but they will be able to use Aeos gems to progress through Mew's Mural Challenge more quickly.
Alongside Mew's debut in Pokémon UNITE, two more Pokémon will make their way to Aeos Island this September. The Triple Bird Pokémon, Dodrio, sprints into the fray on September 14, 2022, while the Pincer Pokémon Scizor will slash its way into Pokémon UNITE on September 28, 2022.
Onward to the Theia Sky Ruins, Where Rayquaza Awaits
Starting September 2, 2022, ranked matches and standard battles will take place in the Theia Sky Ruins above Aeos Island. On this new map, the Legendary giants Regieleki, Regirock, Regice, and Registeel will make their debut as wild Pokémon. Regieleki will appear on the top path, and if you defeat it, it will fight for your team as an extremely reliable ally that attacks the opposing team's goal zones. Regirock, Regice, or Registeel will appear on the bottom path, and the team that defeats it will be powered up temporarily. The bonuses for defeating Regirock, Regice, and Registeel differ, meaning battles can unfold in myriad ways.
In the final two minutes of battle, the Sky High Pokémon, Rayquaza, will appear in the central area. The team that defeats Rayquaza will receive a temporary shield that, while active, increases attack power and goal-scoring speed and makes scoring attempts unblockable.
Mighty Challengers Stand Before You in Legacy Trainer Showdown
In the Legacy Trainer Showdown event running from September 9, 2022, to October 6, 2022, when a Unite Battle begins, Leon, Raihan, Cynthia, Korrina, and Green will randomly burst in to face off against you. Try your hand at defeating them!
In order to challenge these Trainers, you'll need to use Trainer battle tickets. During the event, you can receive one Trainer battle ticket per day at no cost and exchange Aeos coins for additional tickets. You can also earn Trainer battle coins based on your performance and exchange them for items, such as Trainer Outfit (Leon). Don the fashion of the unbeatable Galar champion!
Ranked Match Season 6 Update
Ranked match season 6 begins on September 2, 2022. Raise your rank and receive rewards! The duration of this ranked match season has been shortened to roughly six weeks. Accordingly, the rank reset at the beginning of the season has been adjusted to allow players to reach the same rank as before.
Battle on, and aim for Master rank!
Complete Missions and Earn Special Holowear
Complete missions to earn Theia coins to exchange for capsules at the capsule dispenser. The capsules contain random prizes, such as items you can use in battle. From September 2, 2022, until October 15, 2022, after you've drawn 20 capsules, you can receive Tuxedo Style: Venusaur. And from September 21, 2022, until October 15, 2022, you can do the same to receive Tuxedo Style: Espeon.
Unite Licenses and Holowear Gifts Ongoing
This event commemorating the first anniversary of Pokémon UNITE is still ongoing, and during it, players will be able to get Unite licenses and Holowear as special presents by logging in on up to five days during the event until Wednesday, October 12 2022. For anyone who hasn't claimed these presents yet, this is a perfect time to start playing Pokémon UNITE!
Day 1: Pikachu and Fashionable Style: Pikachu

Day 2: Lucario and Concert Style: Lucario

Day 3: Blastoise and Firefighter Style: Blastoise

Day 4: Snorlax and Bedtime Style: Snorlax

Day 5: Sylveon and Checkered Style: Sylveon
If players already own these Unite licenses or Holowear, they will instead receive 100 Aeos coins per owned item claimed as a reward during the event. Log-ins need not be on consecutive days.