Pokémon UNITE's Holiday Festivities Will Be Snow Much Fun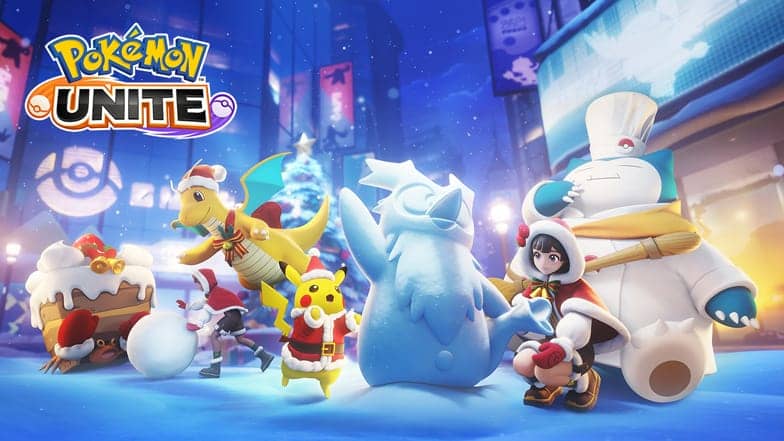 Pokémon UNITE is embracing the merriment of the season with holiday festivities running from December 15, 2021, to January 16, 2022. Players can get special log-in gifts such as reward boxes containing limited licenses and Trainer fashion items, earn special event rewards with the Illumination Challenge and Photo Challenge, and add two new Unite licenses to their collection as Tsareena and Dragonite enter the fray. And by taking part in Snowball Battle in Shivre City, players can watch as their Pokémon are transformed into snowmen during battle. Finally, from January 1 to January 3, 2022, the Unite licenses for all Pokémon will temporarily be made available to all players at no cost, allowing Trainers to use any Pokémon in any battle except ranked matches.
New Unite Licenses
Put your best foot forward during the festivities with two new Unite licenses. From December 9 to December 31, 2021, the Unite license for Tsareena will be available at no cost. Tsareena is a Melee All-Rounder that is ready to reign over the competition with moves like Triple Axel, Trop Kick, and Queen Ascendant.
On December 20, 2021, the Unite license for Dragonite will be available. With powerful moves like Dragon Breath, Outrage, and Draco Impact, this Melee All-Rounder harnesses its impressive heft and draconic might to dole out maximum damage.
New Challenges
Take on exciting new challenges with the Illumination Challenge running from December 15, 2021, to January 16, 2022, and the Photo Challenge running from December 24, 2021, to January 6, 2022.
Participate in the Illumination Challenge by selecting the holiday tree in the lobby to compete in daily missions and challenge missions. By completing these missions, players can collect lights to light up the holiday tree and earn fun rewards—including a Trainer snapshot frame and background, a 1-day limited license, Trainer fashion items, and more.
The Photo Challenge doesn't run the full length of the festivities, but it still serves up plenty of fun. Players can participate in standard battles, quick battles, ranked matches, and Snowball Battle in Shivre City to collect snowflakes. These snowflakes are then used to reveal parts of a photo that are hidden by a silhouette. Collect lots of snowflakes to complete the photo and earn rewards!
New Quick Battle Map
Ice out opponents on the new 4-on-4 quick battle map, Snowball Battle in Shivre City. On this map, opposing Pokémon that are knocked out will become snowmen for a limited time. Pokémon that are turned into snowmen will not be able to move, but they can visually assist their teammates. While a Pokémon is a snowman, its basic attack will instead cause it to jump into the air, and its moves will do different poses, such as cheering, waving, and giving a thumbs-up. When a Pokémon's snowman form ends, it'll leap free of the snow and return to battle.
During Snowball Battle in Shivre City, players can defeat wild Delibird to receive a gift box containing a random one-time battle item that replaces their current battle item. Additionally, the wild Avalugg that normally appears in the central area will be replaced with Articuno.
Special Log-In Gifts
Enjoy special themed rewards and prize boxes by logging in daily from December 24, 2021, until January 1, 2022. From December 25 to December 28, 2021, a prize box will be available from which players can choose to receive Aeos coins, Holowear tickets, Aeos tickets, or item enhancers. From December 29 to December 31, 2021, a prize box will be available that contains a 7-day limited license for one of six Pokémon of the player's choosing. Finally, a New Year's prize box will be available only on January 1, 2022, and it will offer players the opportunity to select from one of four exclusive Trainer fashion items!
Finally, be sure to check out the in-game shop for discounted items and cool seasonal Holowear for Pikachu and other Pokémon!
Happy holidays!